Bring your communications to life with u.motion by Ultima Displays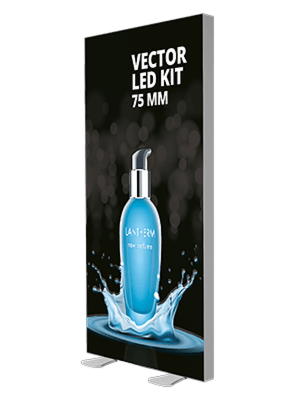 Ultima Displays is an essential trade partner in the world of large format display and visual communications. As a European leader in the exhibition, promotion and retail markets, the company design portable and modular display solutions for exhibition and POS professionals. Known for its many applications, Ultima is taking the lead in innovation and marketing an exclusive Digital Signage range for early 2020.
u.motion - An evolution in Visual Communication
This new solution is currently integrated into a 75 mm aluminium Vector profile frame, recognised as the simplest and most versatile on the market. Eight standard formats are currently available (up to 2.5 metres high and 3 metres wide) for wall or freestanding applications. Animated signage combines printed textiles (secured using SEG) with LED animations delivering an intermediate solution between the digital screen and the fixed textile frame.
The principle is simple, create an innovative visual and tell us how you would like it animated; Ultima Displays does the rest. Thanks to its in-house skills, Ultima masters this technology over several teams. We use Desk Top Publishing (DTP) software to the programme the animation and our print/finishing team are equipped to offer UV or dye sublimation printed graphics dependent on the application.
For the user, a simple USB key is enough to make the visuals dynamic and give a new dimension to communication. There are many possibilities for animation: highlighting a logo, a product or a message. It is also possible to add variation using light intensity, gradients, contrasting effects... The only limit is creativity!
The art of differentiation to attract
More than ever, the digital age is changing consumer's purchasing behaviour. The latest trends reveal that 'Brick and Mortar' strategies are coming back in force and that the boundary between on-line and high street point-of-sale is becoming narrower. Brands are finding that they need to reinvent themselves and be more accessible.
To attract, convince and retain; Retailers are looking for unique solutions that are both simple and economical. Since 2013, LED technology has advanced, becoming more economical and accessible for marketing purposes. Bright, illuminated communications have therefore not only become an element of personalisation but also one of differentiation for brand marketing.
Ultima Displays understands this market and u.motion has been developed to capitalise on these opportunities.
Ideal for retail environments, the u.motion animated signage solution offers a unique in-store sensory experience, making it possible to create an original display. In Retail window displays, a tension application attract and subtly reveal the brand's identity, while inside the shop, animations can highlight a new collection or a product.
The most accessible solution on the market
This solution has been developed specifically for the Retail and Exhibition markets. Marie Amouroux, Product Manager explains "It is an economical alternative to digital devices as u.motion attracts attention thanks to its dynamic function, quality and great price. u.motion is simple to assemble and to renew your message or animation thus guaranteeing an excellent return on investment".
For more information, please visit our website: http://www.ultimadisplays.fr/ Find us on LinkedIn: https://www.linkedin.com/company/ultima-displays-france Contact: Audrey SUCHOCKI - Communication Officer
Mail: asuchocki@ultimadisplays.fr